How It Works
Our Statements
Anyone can signup in Oziway
Anyone can post products and services for sale on Oziway
Anyone can promote products and services posted by others on Oziway
Anyone can buy those products and services on Oziway
Anyone can do any or all of the above
What types of Products are on Oziway (and what can be Sold and Promoted)
There are 11 types of Products, Services or Requests in Oziway :
Task -

need to have a task done? advertise here on Oziway

Jobs -

need to hire a good qualified person? advertise on Oziway

Business leads -

looking for business contacts? let promoters find you the prospects or contacts you need

Downloadable products (digital) -

products that Sellers upload to Oziway (e.g. databases or PDF books)

New products (unlimited quantity) -

Products available in an unlimited quantity (e.g. from a manufacturer or wholesaler)

Service performed online -

like translations , analysis, PDF files, Excel databases

New limited quantity -

a product in a limited quantity (you can enter how many products are available, e.g. you have 10 pieces of a product to sell)

Used stuff -

used products, available in 1 piece

Service offline -

services performed offline, and paid for outside of Oziway

Product demand -

do you need a product and wish suppliers to offer it to you ? write what you need and wait for offers

Service demand -

do you need a service and wish service providers to offer it to you ? write what you need and wait for offers
How to Promote Products
You promote products just like you would share any other information on the internet or with your friends. Normally you send information via email, sms, maybe post to your favorite social network. Here it works the same. You receive from us your own "internet store" address, and that is what you promote
What Products Can Be Promoted
When you signup at Oziway, you need to setup your profile. Fill in your: telephone number, email address, marketing messages and choose your product categories, and also choose your country of choice (where you intend to promote the store). Its best to use the same email address that you use in PayPal, or mobile phone that you use in WeChat (China), as these are the accounts that we will be making payouts to. You receive from us your own "internet store" address full of products within the categories that you have chosen. You can change your profile and choose different categories at any time.
Who Delivers the Products to the Buyer
The Seller delivers the products - don't worry, you don't have to send any product to anyone. All you do is promote your Oziway links. It is the Seller (the Supplier) that sends the product, collects the money and pays the commission to Oziway (we will issue a business invoice) so that we can pay you and other Promoters
Mobile App For Promotors
Go to Apple Appstore or Google Playstore and install the application called Oziway
Active Commission
Active Commission is what you earn when your promotion directly results in a transaction being made. You told someone about your store or a particular product and that person signed up via your link, and bought the product. As soon as we receive the commission from the Seller, we pay most of it to you. Your commission is then called 1st level commission. A small part of that commission will stay in Oziway
Passive Commission
Passive Commission is what you earn when you invite a friend to be a Promoter in Oziway, and that friend promotes their own store or product which results in a transaction being made. The friend told someone about their store or a particular product and that someone bought the product. As soon as we receive the commission from the Seller, we pay most of the commission to your friend, but you also receive a smaller part of the commission for growing your organization. Your commission is then called the 2nd level commission and your friends commission is called the 1st level commission. A small part of that commission will stay in Oziway
How Much Can You Earn in Oziway as a Promoter
It depend on two things:
How well you promote
How well you grow your organization
Remember that it is best not to sell products actively (active sale is harder these days), but provide helpful information when you hear that someone needs a product that you have available. It is also very important to grow your organization, and that your friends that are in your organization, grow their organizations also. This will be the basis for Passive Commission
Your Customers Are Yours - For Ever
If you invite a customer who joins Oziway and makes a purchase, you will receive a commission from this Customers order as well as all subsequent orders. Once the customer registers from your referral link, the customer is "yours". You will receive a commission from this customer even if he makes purchases later on, even from other Promoters links. This goes both ways – if the customer is already registered by another Promoter and then he makes a purchase from your store, you will not receive any commission, because the Customer belongs to another Promoter
Lets look at this in detail, because it is important to understand the mechanism of Oziway referral system:
Example 1:
You were invited by your friend to Oziway. You are actively promoting, and a Customer registers in Oziway using your referral link (that you sent from the mobile app or from the Business Dashboard of Oziway). The Customer makes a purchase of a product, pays for the product and the product is delivered, and the Seller pays the commission to Oziway. We distribute this commission so that you receive most of it, and some also is allocated to your friend that invited you to Oziway. Even if the Customer makes subsequent purchases from another Promoter link, it does not matter. The Customer is in your organization because the Customer registered with Oziway from your link. Customers can not switch organizations, unless they register again using another email address
Example 2:
You are inviting Promoters actively and you invite your friend to register with Oziway, the friend registers in Oziway using your referral link to the login/registration page. The friend starts Promoting Products and services using own links (from Business Dashboard or mobile app). Your friend finds a Customer that registers in Oziway. Every purchase of that Customer (with payments made by Customer and by the Seller of the commissions) mean that commission is allocated in large part to your friend but also a small part is allocated to you. The customer can not switch to another organization, unless the Customer registers again using a different email.
Example 3:
You send a link to a Customer who is already a member of Oziway. If the Customer registered with Oziway not from your link, you will receive no commission from purchases of that Customer, because that Customer belongs to another organization (another Promoter).
Make Your Organization International
In Oziway there are no boundaries. Even though it makes more sense to Promote the products in your home country to your friends, you can recruit Promoters around the world. And the more promoters are in your organization, the better chance you will have of receiving attractive passive income.
What Currency is Used For Calculation of Payout
All commissions are calculated using the base currency of the original purchase by the Customer - the purchase thanks to which you are entitled to a commission. If You have promoted a product in the Australian store, you will have your commission calculated in Australian Dollars. If you have promoted a product in the Chinese store, you will have your commission calculated in Chinese Yuan
The actual Payment of the Payout is a different story. All payouts are converted into a single currency which then is transferred to your account in your currency, whichever currency that might be. Read the chapter about How We Send The Payouts
How We Send The Payouts
Payouts of Commissions to Promoters and Payments to Sellers for Purchases of their Digital (Downloadable) Products.
All digital goods go through the Oziway payment system. The Customer pays to Oziway, we deduct the declared commission, then pay the Seller of the product and the Promoters their commission.
The payout amount (whether it's a Commission or Payment from the sale of a Digital Product) is added to your balance in Oziway. As soon as we receive a request from you to make a payout, we use either PayPal or WeChat (in China) to transfer funds to your account. If you want to receive a payout to a different email address (in Paypal) or a different mobile number (in WeChat) then the one which is registered with us, then on the Payout Request Form you can enter this data in the comments field. Please note that such payout requests might take longer to be fulfilled, since we have to verify the data.
A Payment Fee is subject to each payout request (please see Terms and Conditions ) to cover the costs of Administration and the Payment Gateway
Do Any Formal Forms or Papers Need to Be Filled Out Before The Payout
We just require an online forrm to be filled out (Tax Verification Form) so that we knmow where you are from (in which couintry you pay taxes) This form is available on your Business Dashboard. We do not send this information to your tax office, we send it to our tax office
Does Oziway Deduct Any Tax From Payouts
We deduct 20% which we pay to our tax office unless you are a copmpany and can provide us with a receipt for the payout, in which case we will NOT deduct anything. In such a case you should pay taxes and other appropriate levies in your own country. We do not inform your country tax office about your earnings. This is your obligation. By using this service, you take the responsibility of reporting your own earnings to Your authorities.
Be a Professional Promotor
From time to time, we will have special, high income "premium" projects. We will contact directly those Promoters that have a track record of good organization growth.
How To Sell Products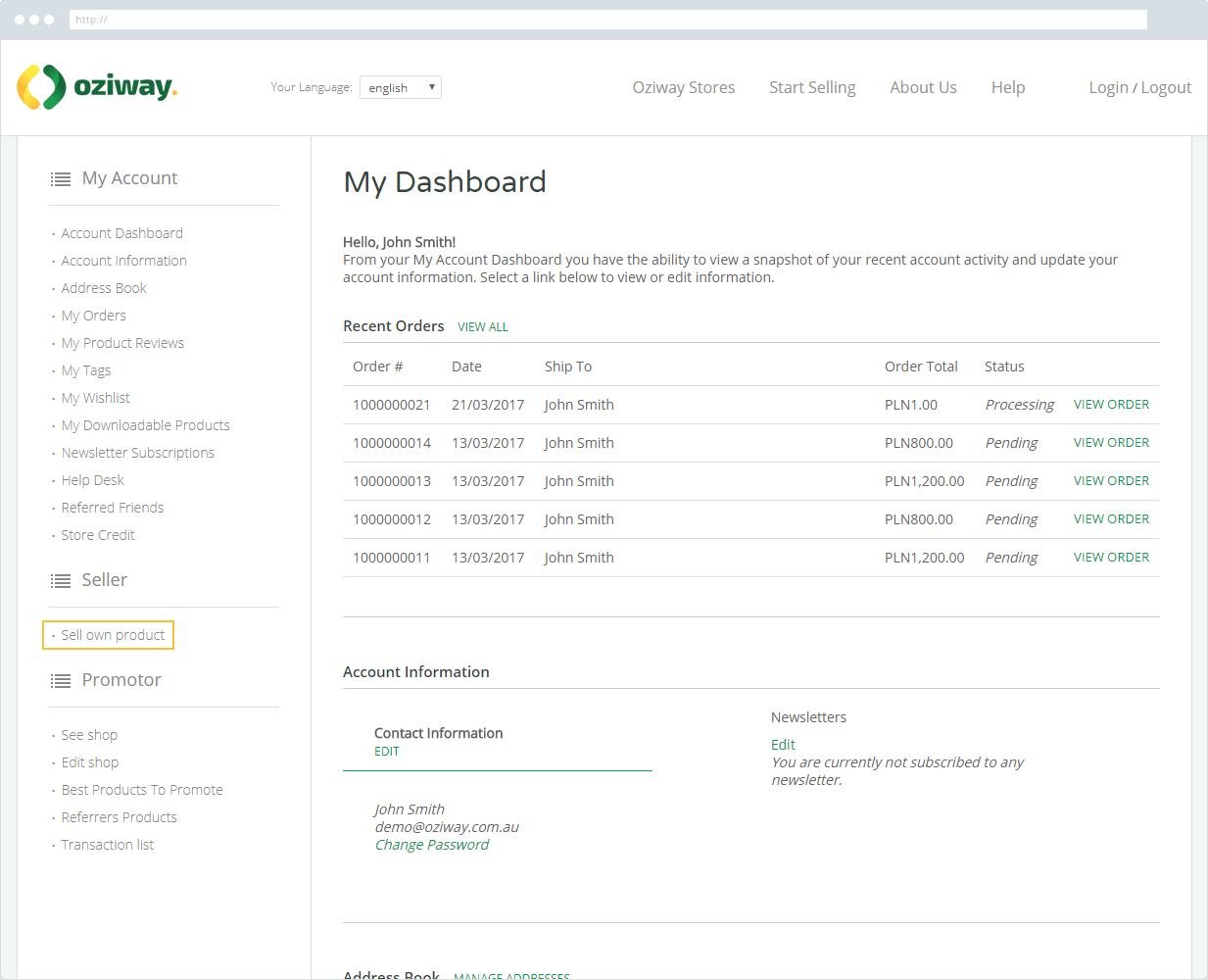 How do You (Seller) get paid for Physical products that need to be shipped
The customer pays you directly (offline). You make payment and delivery arrangements with the Customer. If you want to receive the money online via Oziway payments, please contact us using the Contact Form
How Do You (Seller) Know Who to Deliver Physical Products or Services to
Login to your Business Dashboard available on Oziway.com. There you will find a List of Pending Transactions – transactions that need to be accepted (OK) or rejected (FAIL). You have a number of days (that you entered when you posted a product) to verify that a transaction took place, therefore to Accept (OK) the transaction, or to Reject (FAIL). You reject the transaction if it did not finalize. You will not have to pay commission for rejected transactions.
How Do You (Seller) Pay The Commission For The Sale of Physical Products
Login to Your Business Dashboard. There you will find a List of Transactions that need to be accepted (OK - delivered) or rejected (FAIL - not delivered).
When you post products or services to Oziway, you enter how many days you need to finalize the transaction (Customer paid, Seller delivered). You set the status of each transaction, before the declared number of days has passed (if we receive no feedback, Oziway automatically sets the transaction to Success and you are required to pay the commission).
1 of 3 things now will happen :
If the transaction was not finalized (Customer did not pay for example, no delivery took place), then set the status to Rejected (FAIL) and enter a description – what happened, why did the transaction not take place. You will not be required to pay any commission.

If the transaction was set to Success (OK) automatically, but it did not actually take place (you forgot to reject the transaction), contact us and let us know what happened.

If the transaction was finalized and its status set to Accepted (OK, automatically or by you), you have 7 days to make the payment (you will receive a business receipt for the payment). Please do not be late with the payment because after 7 days, if no payment is made, your products are automatically disabled.
How Do You (Seller) Get Paid For Digital/Downloadable Goods
When you publish a Digital (Downloadable) Product, you set a price in USD. Automatically this product will get published in all our country specific stores, and its price will be automatically converted to all currencies in those stores (Australian Dollar, Chinese Yuan, Euro etc). When a Customer buys, Your Balance will automatically be increased, you can then send a Payout Request and we will pay to your PayPal or Wechat (China) account.
Please see above How we send the Payouts

Loading...